Robin Bennu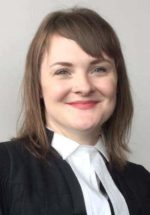 Areas of Practice
Contact
Robin Bennu obtained her Juris Doctor in 2015 from the Peter A. Allard School of Law at the University of British Columbia. During her time there, she volunteered for the Law Students' Legal Advice Program in which she represented low income individuals in criminal charges, small claims, human rights, residential tenancy, and human rights disputes.
After graduation, Robin worked at a boutique civil litigation firm in Ottawa focusing on personal injury plaintiffs and insurance company defence, and employment disputes from both employee and employer's sides.
In 2017, Robin moved to Campbell River and started growing her own practice, focusing primarily on family law, including divorce, property, parenting, support, and child protection.  She also represents individuals accused of crimes and regulatory offence, particularly offences under the Fisheries Act and Regulations. She does some other civil litigation and will happily help clients with wills and real estate conveyances.
Outside of work, Robin is a full-time mom to a busy, active, growing boy. He is her motivation to work hard and build her business. He also motivates her to do the best work for the children in the families that she works with.