Kayla Bergsson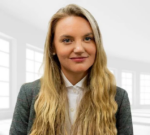 Areas of Practice
Contact
Kayla Bergsson was born and raised in Victoria, BC. She completed an Honours Bachelor of Arts degree (with distinction) and a Juris Doctor degree at the University of Victoria.
Kayla is passionate about using the law as a tool to obtain a just result for clients who have been harmed by the wrongful actions of others. She focuses her practice on personal injury claims (motor vehicle accidents, slip and falls, child abuse or neglect, sexual assault, and intimate partner violence) and human rights claims (relating to discrimination and harassment based on personal characteristics). Kayla is also interested in animal law, employment law, and wills and estates litigation. As the director of MacIsaac & Company's human rights law group, she maintains the BC Human Rights Law blog, which can be found here:  https://bc-human-rights-law.com/.
Kayla is also the MacIsaac & Company contact person for the University of Victoria parking permit class action lawsuit.  Please see here for more information:  https://macisaacandcompany.com/faq-university-of-victoria/
She is a member in good standing with the Law Society of British Columbia and the Trial Lawyers Association of British Columbia.